User:Mmaini
Moreno Maini - Tecnico Ingegneria dell'Informazione
---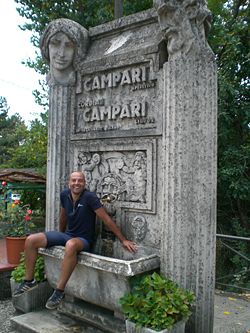 address: Dipartimento di Ingegneria dell'Informazione
Università degli Studi di Modena e Reggio Emilia
via Vignolese 905/b, Modena, Italy, I-41125
tel: +39-059-2056327
fax: +39-059-2056129
e-mail: moreno.maini@unimore.it

Moreno Maini was born in Modena, Italy, on February 22, 1976.
He received the Dr. Ing. degree in Electronic Engineering from the University of Modena and Reggio Emilia in February 2003 discussing a thesis about the development of numerical methods based on the Finite Element Method for optical amplifiers analysis.
From January 2004 to December 2006 he was a Ph.D student at the Department of Information Engineering (DII) of the University of Modena and Reggio Emilia. He received the Ph.D. degree in Information Engineering in February 2007 with a thesis about the numerical analysis and electromagnetic characterization of devices for telecommunications.
---
Links